Particularly in the late 18th and 19th centuries, periodicals were incredibly important in shaping tastes and debating public issues.
John Murray published a number of periodicals — newspapers, magazines, journals, reviews and annual reports.
Some were incredibly successful, the best of their kind — critically acclaimed and profitable. Others were less so, ending in acrimony and failure.
The John Murray Archive has a wealth of correspondence and business papers detailing this important part of Murray's publishing activity.
'Quarterly Review' (1809-1967)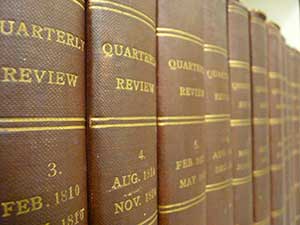 Bound volumes of 'Quarterly Review'.
John Murray II founded the 'Quarterly Review' in February 1809 as a Tory rival to the Whig supporting 'Edinburgh Review'. It was set up and supported by a small number of powerful literary and political figures, notably Sir Walter Scott, Robert Southey, John Wilson Croker and George Canning.
It quickly gained a high reputation and influential popularity among its largely middle-class readership. Reviewing all aspects of political and literary life, it was often hostile to those writers who favoured political reform.
Only the 'Edinburgh Review' could claim to rival the 'Quarterly Review' in readership, influence and quality during the 19th-century.
The 'Quarterly Review' brought together some of the most insightful and influential men from politics, religion, science and literature. Many of Murray's authors were reviewers for the periodical.
Regular 19th-century contributors included John Wilson Croker, Robert Southey, John Barrow, Henry Hart Millman, John Wilson Croker, Samuel Smiles and Lady Elizabeth Eastlake.
In the 20th century the Murrays took a more active editorial role. Contributors included John Betjeman and Osbert Lancaster.
Following the death of John Murray V in 1967, publication of the 'Quarterly Review' ceased.
'Medical and Philosophical Commentaries' (1773-1795)
In 1773 John Murray started publishing Britain's first regular medical review journal.
'Medical and Philosophical Commentaries' publicised and reviewed the latest publications, discoveries and improvements in medicine. It went on to print news from medical societies in France, Denmark, Russia, and America, as well as news from Great Britain.
Distinguished Edinburgh physician Dr Andrew Duncan the elder edited the journal until publication ended in the 1790s.
'Murray's Magazine' (1887-1891)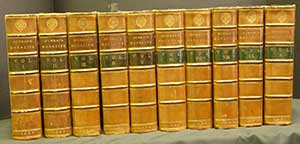 Bound volumes of 'Murray's Magazine'.
John Murray published 60 issues of the one shilling monthly 'Murray's Magazine' between January 1887 and December 1891.
Although enjoying some critical praise the magazine was not commercially successful. Only 5,000 copies per issue were printed during the final last year.
'Murray's Magazine' was aimed at the educated middle class, and contained broad ranging — but conservative — articles on social, political and cultural topics, as well as literary criticism and reviews.
Following a long absence, John Murray had begun republishing fiction with Emily Lawless's 'Hurrish. A study' (1886), and F L S Lawless ('Major Lawrence') provided the magazine's first serial story.
Its most highly acclaimed serialised story — later issued as a three-volume novel — was Margaret Louise Woods' 'Esther Vanhomrigh' (1891).
Works by better-remembered authors, such as Thomas Hardy, were also published in 'Murray's Magazine'. Hardy's short story 'The Waiting Supper' (1888) was included in the magazine. However, the editors rejected his 'Tess of the d'Urbervilles' due to the frequent references to immoral situations, and it was eventually serialised in 'The Graphic' (July to December 1891).
Other notable contributors included:
William Ewart Gladstone
Mary St Leger Kingsley, writing as Lucas Malet
Axel Munthe
Violet Paget, writing as Vernon Lee
Morley Roberts
Theodore Roosevelt
'Murray's Magazine' had two editors: Edward Augustus Arnold (1857-1942) and William Leonard Courtney (1850-1928) who edited it from May 1890 to December 1891.