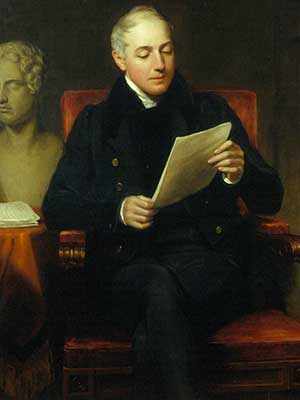 John Murray II was only 15 when his father, John Murray I, died. As a result, the family business was first managed solely by Samuel Highley. It was then managed in partnership with John Murray II until 1804, when the partnership was dissolved.
In 1807 John Murray II married Anne (1782-1845), the daughter of Charles Elliot (1748-1790), an important Edinburgh bookseller and publisher.
The archives of Elliot's business are contained within the John Murray Archive.
Albemarle Steet and literary friends
Under John Murray II, the business expanded and in 1812 Murray moved to bigger and more dignified premises at 50 Albemarle Street in the fashionable west end of London.
Soon afterwards, Murray was hosting regular meetings of authors and friends in the drawing room, forming what Sir Walter Scott called 'Murray's 4 o'clock friends'.
The Athenaeum Club, which was established in 1824, partly grew out of these meetings, with Murray II and his many literary friends being founding members.
Murray II founded the political and literary journal 'Quarterly Review'.
He was noted for his large and generous payments and terms given to his authors, who included novelist Jane Austen, cookery writer Maria Rundell, and poet Lord Byron.