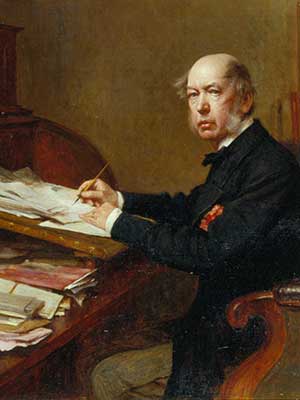 John Murray III's early education at the prestigious English public school Charterhouse was followed by enrollment at Edinburgh University. Here he became interested in geology and mineralogy.
While at Edinburgh, he attended a dinner in which Sir Walter Scott was revealed as the author of the 'Waverley' novels, which he relayed in a letter to his father, John Murray II.
'Handbooks for Travellers'
Following his studies, Murray III travelled extensively on the continent and this was the basis of his development of the first successful modern guidebooks — Murray's 'Handbook for Travellers' series.
The popularity of this series helped him build a family home at Wimbledon, named 'Newstead', but affectionately nicknamed 'Handbook Hall' by others.
Murray III became a co-partner with his father from 1836 and was head of the family and house from his father's death in 1843 until his own death in 1892. In running the business he was assisted throughout by his nephew Robert Cooke.
Notable authors
Murray III published many notable authors, including explorer David Livingstone, biographer Samuel Smiles, geologist Sir Charles Lyell, and naturalist Charles Darwin.
Although successfully publishing the works of Darwin and Lyell, Murray disagreed with much of their theories.
He wrote, under the pseudonym 'Verifier', his own opposing geological arguments in 'Scepticism in Geology' (1877).