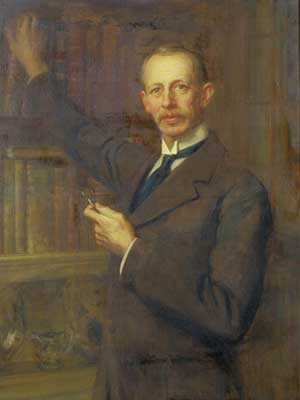 On Sir John Murray III's death in 1892, his two sons, Sir John Murray IV and Hallam Murray, took over the running of the business.
Murray IV had been working with the firm since 1873 and became a junior partner in 1878. Hallam had joined the firm in 1884.
However, the brothers quarrelled, and Hallam left the business in 1908. They were never to be fully reconciled.
Remaining at the helm of the firm, Murray IV became a significant figure in the publishing world.
He was a founding member of the Publishers' Association. He played an important role in setting up the net book agreement — which set the cover price for the sale of books to the public — and the 1911 Copyright Act.
Queen Victoria's letters
The publication of which John Murray IV was most proud was the multi-volume 'Letters of Queen Victoria', edited by Arthur Christopher Benson and Viscount Esher, a project which began in 1907 and was completed by the firm under his son in 1932
Murray won a legal dispute with the Times Book Club following their attempt to sell the 'Letters of Queen Victoria' at a discount.
Smith, Elder & Co
John Murray IV was responsible the acquisition of the publishing house of Smith, Elder & Co, following the death of Reginal Smith in 1916. This was an important addition to the firm as it included the influential literary monthly 'The Cornhill Magazine'.
A host of important authors came too, including Sir Arthur Conan Doyle, George Eliot, Thomas Hardy, John Ruskin and the Brontë sisters.