In the National Library of Scotland's collections there is one of only two multi-volume works known to have been bound by James Scott of Edinburgh.
Scott was one of the finest bookbinders working in 18th-century Britain, but we know very little about his life. He was working in the Old Town of Edinburgh from the early 1770s to the early 1780s. He died in either late 1785 or early 1786 and his business was taken over by his son William.
We have over 200 volumes bound by James Scott in the Library's collections.
'The British Poets' set
Consisting of 42 volumes of 'The British Poets' series, this set [Libary shelfmark: Bdg.s.835/1-42] was published in Edinburgh in 1773.
The volumes contain a selection of key works by British poets written in the 17th and 18th centuries.
A further two volumes in the series were published in 1776, but these are not included in this set, which means it was likely the bindings were done before the publication of volumes 43 and 44.
Binding details
The set shelfmark has been bound in dark red morocco leather, with gilt tooling, including a cluster of musical instruments tool on the spines, which was used by Scott in the late 1770s.
Each volume has a green leather panel on the front cover with the initials 'A M' — the initial owner of the set, who has not been identified.
Scott used the oval gilt tooling surrounding the initials on other bindings.
Owners' additions
Inside the volumes there is a bookplate of Admiral Sir Thomas Cochrane (1775-1860), Earl of Dundonald, a later owner.
One previous owner of the set has gone to the expense of putting a replacement leather label with the author's name on the spine of volume 20.
Digitisation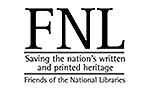 We bought the set in 1996 with the help of a grant from the Friends of the National Libraries. They have now kindly given us a grant to digitise this set.
By digitising the bindings of each volume, including the spines and edges of the boards, we can see the variations in how the binding tools were applied to the leather over the 42 volumes.