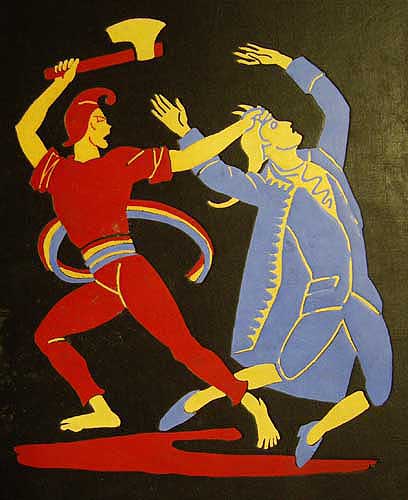 Mirko Racki's binding for 'Revolucija Francuska' by Thomas Carlyle (Belgrade [1930-1950]) [Library shelfmark: HB2.207.6.218].
This striking colourful leather binding was designed by the Croatian artist Mirko Racki (1879-1982) for a Serbian translation of Thomas Carlyle's 'The French Revolution'.
The book was first published in a Serbian translation in 1837. Our copy appears to be of the first edition of the translation by Mihailo Dobric.
'The French Revolution' is one of Carlyle's most famous works. Maybe this has to do with an anecdote. It is said that the maid of the philosopher John Stuart Mill threw the original manuscript into the fire by accident.