Crafting an authorial persona can be part of a writer's creative process. Some authors use pen names to stand out, others to fit in. A pen name may be chosen to emphasise individuality, or to participate in collaborative publishing ventures such as multi-authored works. 
A pen name can project an image which doesn't always reflect the lived experience of an author. This can raise ethical questions when an author speaks for a community to which they do not belong. 
Today, authors are less likely to hide their identity and be open about adopting different names to match different strands of their work.
Lewis Grassic Gibbon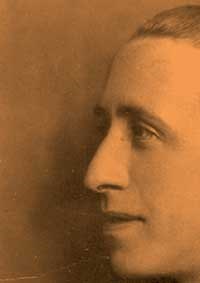 In 1932 James Leslie Mitchell (1901-1935) chose to publish his seventh book 'Sunset Song' as Lewis Grassic Gibbon. 
Set in the rural north east of Scotland where Mitchell was born, the novel was issued under a nom de plume that referenced his maternal grandmother, Lilias Grassick Gibbon. 
He had a double literary career, publishing books relating to Scotland as Gibbon and other works as Mitchell. 
See also: The Lewis Grassic Gibbon collections page.
Image: James Leslie Mitchell (Lewis Grassic Gibbon). © Grassic Gibbon Centre. 
Ambrose Parry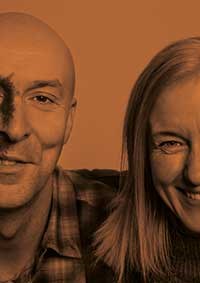 Wife and husband Dr Marisa Haetzman (1968 -) and Chris Brookmyre (1968 -) write crime novels set in 19th century Edinburgh as Ambrose Parry.
They have published three Ambrose Parry books 'The Way of All Flesh' (2018) and 'The Art of Dying' (2019) and 'A Corruption of Blood' (2021).
Brookmyre is an established writer. Dr Haetzman is a former consultant anaesthetist with an interest in the history of medicine. She saw the germ of a novel while researching the Scottish physician James Young Simpson.
Their collaborative pen name comes from Ambroise Paré, a 17th century French military surgeon.
Image: Chris Brookmyre and Dr Marisa Haetzman (Ambrose Parry). Photo by Alan Nevins, 2017.
Captain George North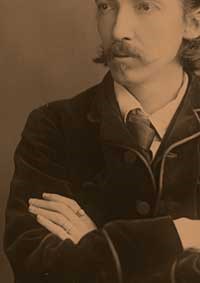 Early in his writing career, Robert Louis Stevenson (1850-1894) contributed stories to the children's magazine 'Young Folks' under the name Captain George North.
This pseudonym was probably invented by the editor. It would have sounded suitable for the author of 'Treasure Island', a sea-faring adventure story featuring pirates and hidden treasure, first serialised in the magazine.
'Treasure Island' would be reissued in book form attributed to Robert Louis Stevenson in 1883, and has become a classic of children's literature.
Read more about the author's life and works on our Robert Louis Stevenson site.
Image: Robert Louis Stevenson (Captain George North), 1886. From the Balfour Papers [Library Shelfmark: MS.9907].