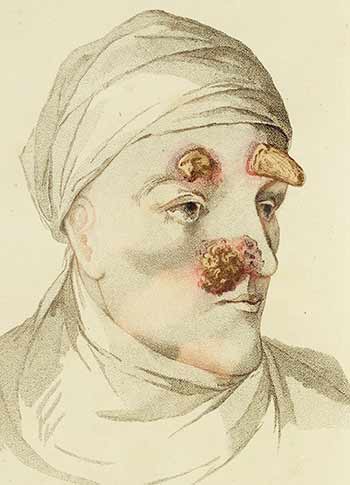 Detail from a plate in 'An essay on the venereal diseases', published in 1814.
'An essay on the venereal diseases' was published in 1814. Written by Richard Carmichael (1779-1849), the book contains four plates with coloured lithographs, showing the severe skin disorders caused by syphilis.
Carmichael was an Irish surgeon and educationalist who worked as a surgeon with prostitutes at the Lock Hospital in Dublin.
Syphilis symptoms and containment
Syphilis is a highly contagious sexually transmitted disease, with symptoms including sores, skin rashes and growths, and eventual damage to the brain, heart and bones.
Town councils in Scotland tried to contain the spread of syphilis from 1497 onwards. Regulations included banishing infected people to Inchkeith Island in the Firth of Forth.
This book was on show in 'Plague!', our exhibition on Scotland's history of disease, which ran at the National Library from 11 December 2015 to 29 May 2016.