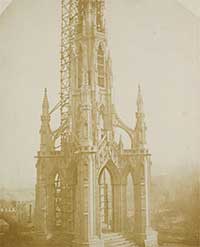 Edinburgh's Scott Monument
under construction.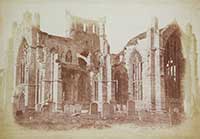 Melrose Abbey.
William Henry Fox Talbot (1800-1877) developed one of the first photography methods, soon after Louis Daguerre revealed his daguerreotype process in 1839.
Photogenic drawings
Talbot produced 'photogenic drawings' using a calotype process where a camera negative could produce multiple positive copies of an image.
He realised that photography could be used to illustrate books, and in 1845 he issued 'Sun pictures in Scotland'.
The first illustrated monograph
Arguably the first photographically illustrated monograph ever made, 'Sun pictures in Scotland' contains 23 original photographic prints of the country and its landscape.
Only 100 copies of 'Sun pictures in Scotland' were made, and only around 20 copies are known to still exist in book form.
'Sun pictures in Scotland' was on display in '"Sun-pictures" and beyond', at the Library from 30 November 2016 to 26 March 2017.