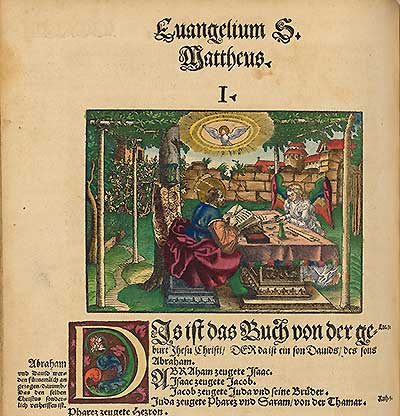 'Biblia, das ist, die gantze Heilige Schrift deudsch …', German translation by Martin Luther (Wittenberg, 1541) [Library shelfmark: RB.l.124].
One of Martin Luther's lasting achievements is his rendition of the Bible into German.
This is our oldest edition of the complete German Bible in Luther's groundbreaking translation.
Shown here is the beginning of the New Testament with an illumination of the gospel writer St Matthew.
Luther translated the New Testament within an astonishing 11 weeks in 1522 while he was in protective custody in Wartburg Castle. He had been taken there on his way home to Wittenberg after the Diet of Worms in 1521.
A bestseller
The German New Testament was for sale at the Leipzig Book Fair in 1522 and sold out almost at once.
A second edition followed within three months, and a total of 12 authorised editions within the first year of publication, as well as some 50 pirated ones.
Half a million copies sold during Luther's lifetime.
A copy of Luther's translation of the Bible features in the display 'The Reformation: What was it all about?' at the National Library from 19 October to 10 December 2017.