Young people engage with war history

Exhibits in our display have been inspired by the experiences of young Scottish women living in wartime, seen through the eyes of young people today. Ran from Thursday 21 June to Saturday 29 September 2018.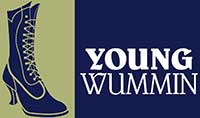 The Youngwummin display commemorates the centenary of the end of the First World War and marks the Year of Young People 2018.
Created as part of the Youngwummin project, the display presents the research of five groups of young people across Scotland.
Led by youth workers, the groups studied the lives of Scots women in the First World War and produced creative exhibits. Helped by Library staff, the young people arranged their pieces in a unique and striking display.
Bringing the past to life
Topics in the groups' research highlighted issues in the lives of young Scottish women of the past which resonate with young people today.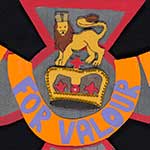 Women at work
'Yipworld', the group of researchers from East Ayrshire, produced a colourful Victoria Cross to honour women in the war.
More about Women at work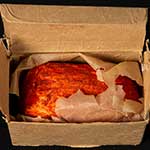 Women at home
Feeding the family on rations inspired the Stirling group of researchers to write a recipe and create a mock gingerbread loaf.
More about Women at home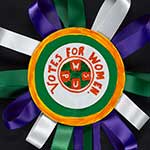 Women's rights
Bright rosettes with powerful slogans were produced by two groups, re-imagining the fight for women's rights 100 years ago.
More about Women's rights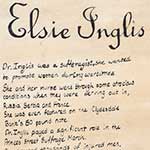 Scottish Women's Hospitals
An illustrated poem, inspired by the work of Dr Elsie Inglis, was created by the group of young researchers from East Dunbartonshire.
More about Scottish Women's Hospitals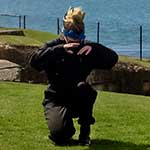 'War Girls' dance
A group from Dundee performed a dance in honour of the forgotten heroines of the First World War.
More about 'War Girls' dance
To complement the modern pieces created by the young people, a selection of Library material from the First World War is also included in the display.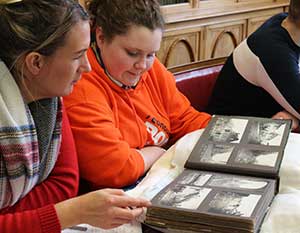 About the Youngwummin project
Backed by the Heritage Lottery Fund, YouthLink Scotland worked with the Library to support the training and development of youth workers from across Scotland.
Youth workers at the start of their careers received training in youth-led research. They visited the Library in 2017 to develop their heritage skills by meeting staff and examining items from the First World War in the Library's collections. They went on to lead five groups of young people to research the lives of Scottish women in the First World War. The young people visited the Library in 2018 to work with Library staff and plan a display.