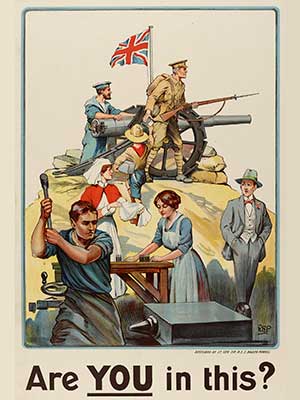 A 1915 poster from the Library's collections
designed by Robert Baden Powell.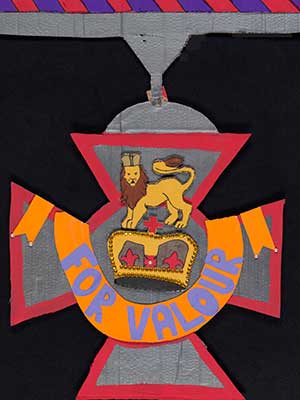 A 'Victoria Cross' made by young people
for Scots women in the war.
As part of the Youngwummin project, young people researched the impact of the First World War on young Scottish women.
The 'Yipworld' group of youngsters from East Ayrshire, were inspired by the women who responded to the nation's wartime needs. They created a large, colourful version of the Victoria Cross in recognition of the fact that this iconic medal was not awarded to women until after the First World War. This piece was intended to, in their words: 'Reward every woman's bravery in the War'.
During the First World War, the British government encouraged both men and women to work to contribute to the war effort. A poster from 1915, designed by Lt Gen Sir R.S.S Baden Powell, carried the slogan 'Are YOU in this?' and depicted women taking on jobs to help keep the country running. A copy of this poster is held in the Library collections, (shelfmark: GAA.3(11)).