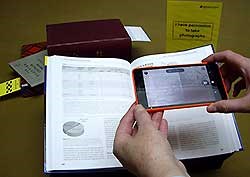 Self-service photography allows you to create working copies for private study or research, using your own camera phone, tablet computer or basic compact camera.
This service is available during the General Reading Room opening hours.
What you can photograph
You can capture working copy sections of texts, rather than facsimile reproductions of materials. For high quality reproductions, see professional imaging services.
More detailed information on what can and cannot be photographed is available in the self-service photography terms of use and guidance (PDF) (349 KB; 19 pages).
What you cannot photograph
In the General Reading Room, you cannot photograph:
The latest 10 years of Electoral Registers
Photocopies
Original photographs
Mintel reports
Computer and / or microform screens.
Items that cannot be copied will be clearly marked with chequered flags.
Taking photos of other readers or Library staff or of the room in general is not permitted.
How you can photograph
You can use your camera phone, tablet computer or basic compact camera to take still images
You must switch any sounds off on your camera or device, and you must not use the flash.
We do not allow the use of:
Handheld scanners
Bridge or superzoom compact cameras
Professional photography equipment e.g. digital SLR cameras, removable lenses, tripods, etc.
How to get permission
Speak to staff at either the Enquiry desk or Collection and Return desk in the General Reading Room
Read the self-service photography terms of use and guidance (PDF) (115 KB; 12 pages) before taking any photographs
You will need to consult staff about which works you may photograph and collect a permission card each time you visit.
Copyright and licensing restrictions
The service is limited to certain areas of the collections consulted in the General Reading Room. This is due to:
Copyright and licensing conditions
Terms of ownership or deposit
Privacy restrictions
Conservation issues and related restrictions.
Many items in the General Reading Room are in copyright, even if they are very old.
In November 2015, the UK Intellectual Property Office published a short guidance note on the use of photographs. The guidance explains certain aspects of copyright in more detail.
Copyright exceptions
Exceptions to copyright allow you to make limited copies from works that are protected by copyright. If you are unsure about the copyright status of an item you should treat it as if it is in copyright.
You can find more information in the Library's 'Exceptions to copyright' guide (PDF) (59 KB; 4 pages) or by visiting the Government's 'Exceptions to copyright' information.
Professional imaging services
The Library's professional imaging service is the best way to obtain high-quality copies of materials, including:
Digital images
Scanned or paper copies
Photographic prints.
Please ask reading room staff about these services or see the 'Copying services' section for more information.
Contact us
If you have questions about the service, please ask a question online.