Requesting items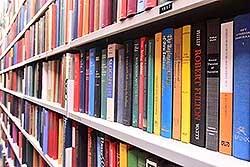 Modern items on stacked shelving.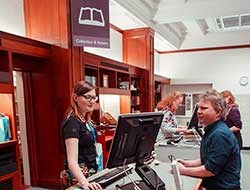 The Collections and Returns desk.
To obtain a collection item, you must consult the relevant catalogue to identify the required item.
For books and monographs included in Library Search which are published after 1850 and can be consulted in the General Reading Room, there is an online request system which automatically forwards requests to our Bookfetching Units. Read more on our preorders page or view the online request system guide.
Items are stored in two separate buildings, so delivery times will vary. You must return all books to the Collections and Returns Desk not later than 10 minutes before closure.
As the National Library of Scotland is a reference-only library, you must consult all items in our reading rooms. You cannot borrow material for external use.
How to handle collection material safely
All readers must take utmost care of items in the National Library of Scotland's collections. We will immediately withdraw the library card of anyone who damages our material. Details about the care of the collections are available in the Library's terms and conditions.
We use CCTV monitoring to ensure good handling and security of the collections.
Before you enter the reading room:
You must leave the following items in a locker in the cloakroom beside Readers' Registration:
Outdoor coats and jackets
Wet outer garments and umbrellas
Bags larger than 29cm x 21cm (A4)
Any items of food or drink.
Lockers take a £1 coin. Staff at the café till will give you change if you need it.
In the reading room:
You can only use pencil to write with, for the protection of collection items
You can buy pencils in the Library shop on the ground floor
Please be careful not to write on, lean on, mark or place working papers on top of any Library material
You should ensure that your hands are clean before handling Library materials
Wherever practicable, you should read material on the book supports provided — we can give you weighted beads to hold volumes open
Please report any defect, damage or unopened pages to a member of staff.
Additional