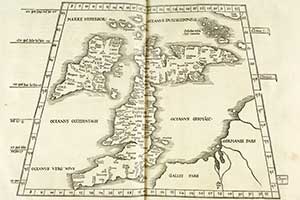 The following are some of the special collections held in the Maps Reading Room.
John Bartholomew Collection
A notable collection of early maps and atlases, from the 16th to 19th centuries, gifted in 1995 in memory of John Bartholomew (1890-1962) by members of the Bartholomew family.
Bartholomew Archive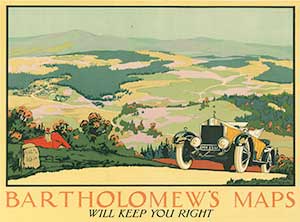 Poster advertising maps
from the Bartholomew Archive.
The Bartholomew Archive is the remarkable record of the Edinburgh-based firm John Bartholomew & Son Ltd. The archive documents nearly 180 years of map engraving, printing and publishing. It also records the management of the firm across several generations of the Bartholomew family. The variety of material in the archive includes:
Bartholomew printed maps and atlases
Preparation (working copy) maps
Reference maps
Glass and copper printing plates
Extensive business records.
Board of of Ordnance Collection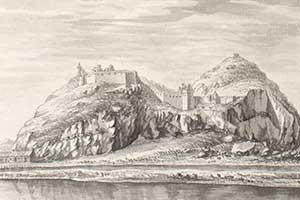 Around 375 (mostly manuscript) maps and plans, prepared by the Board of Ordnance in the 18th-century for government troops during the Jacobite period. Maps of routes, fortifications, and towns, principally of the Highlands, are included in this donation which came to the Library in the 1930s from a government department descended from the Board of Ordnance. View the entire Board of Ordnance collection on our Military Maps of Scotland (18th century) website.
Graham Brown Collection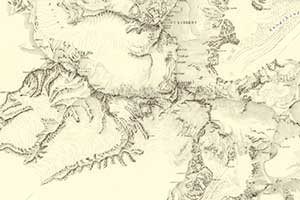 Detail from map of southern face and
south region of Mount Everest, 1932,
from the Graham Brown collection.
Maps and atlases of mountains and polar regions, collected by Professor Thomas Graham Brown. Since his death in 1965, his bequest has allowed the Library to add material relating to these areas. Maps and atlases are held in the Maps Reading Room. Other material is held in the printed book collections.
Marischal Collection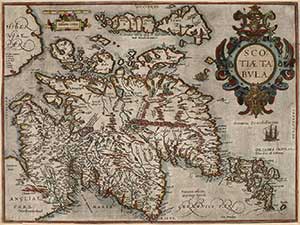 A collection of 137 maps of Scotland from 1573 to 1873, reputed to have been collected by Jacobite supporters in France, and acquired by the Library in 1977. A small selection of these maps can be viewed on our Maps of Scotland website by doing a keyword search for 'Marischal'.
Murray Collection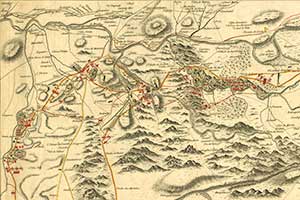 Detail of military map showing areas of
Portugal occupied by French forces in 1811,
from the Murray collection.
Manuscript and printed military maps and plans collected by General Sir George Murray (1772-1846), a Scottish soldier who rose to become Secretary of State for the Colonies and Master General of the Ordnance. Around 80 maps of Spain and Portugal relate to the Peninsular War, and there are also maps of the St Lawrence area (he was Governor General of Canada in 1814), North Africa and India. The maps include examples of early lithography.
Newman Collection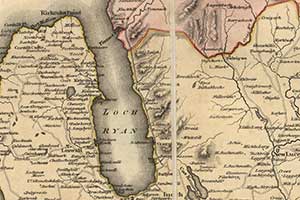 Books and maps on roads, transport and itineraries (mostly UK, but also including Europe) collected by Professor Sidney Newman and bequeathed to the Library in 1972. A small selection of these maps can be viewed on our Maps of Scotland website by doing a keyword search for 'Newman'.
Stevenson Collection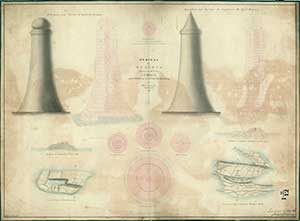 Designs for Beacons and Captain's Bridges
from the Stevenson Collection, 1828.
A large collection of 19th and 20th century manuscript and printed maps, engineering drawings and building plans from the famous Scottish engineering family, which specialised in building lighthouses, harbours and other large civil engineering works. The bulk of the collection covers the United Kingdom, but their work was worldwide, including Japan and New Zealand. The collection came from the Stevenson family in stages over several years between the 1950s and 1990s, some donated and some purchased.
Wade Collection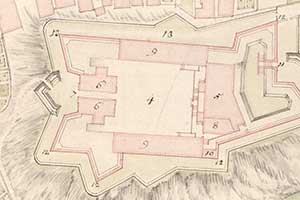 This collection of 19 manuscript maps and plans was purchased from the Royal Scottish Geographical Society in 1992. They are associated with Field-Marshal George Wade (1673-1748), Commander-in-Chief in Scotland from 1724 to 1740, and relate to the building of forts, barracks and roads in the Highlands of Scotland during that time. View the entire Wade collection on our Military Maps of Scotland (18th century) website.
More detailed information about some of these collections can be found in the index of Special and Named Printed Collections.
For more information about our map collections, you can ask a question online.