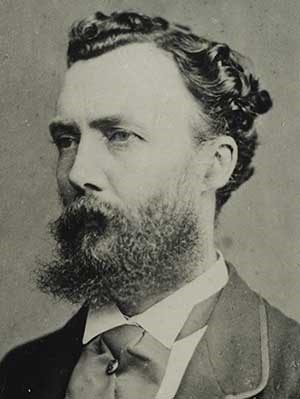 Sir John Kirk, a British diplomat in
Zanzibar, photographed around 1887
[Library shelfmark: Acc.9942, no.47].
There were various slave trade routes through Africa, including East Africa.
Sir John Kirk (1832-1922), who was Britain's Vice-Consul and later Consul to Zanzibar, was instrumental in the suppression of this slave trade.
In 1873, he presented Sayyid Barghash bin Said Al-Busaid, Sultan of Zanzibar (1837-1888), with an ultimatum that threatened a naval blockade unless the Sultan closed the market where enslaved people were sold. The Sultan closed the market as a result of this threat.
The Library holds Kirk's papers, which include discussions of the slave trade.
David Livingstone
Another Scot interested in the abolition of the slave trade in East Africa was David Livingstone (1813-1873). He was born in Blantyre, near Glasgow, where he worked in a cotton mill as a child. Later, he qualified as a doctor.
In 1841, Livingstone arrived in Cape Town, in present-day South Africa, to undertake missionary work.
Between the 1840s and 1870s, Livingstone travelled extensively in Southern and Central Africa. He became one of the most prominent Scots of the 19th century, not least through his bestselling 1857 memoir 'Missionary Travels'.
While his missionary work was of limited success, Livingstone helped to spread information about slavery in Africa. He witnessed the mistreatment of enslaved people in the places he visited. Equally, he interacted with local slave traders during his expeditions.
There is an extensive amount of Livingstone material available to consult at the Library, including the manuscript of 'Missionary Travels'.
Alexander Low Bruce (1839-1893) was the son-in-law of missionary and abolitionist David Livingstone.
Bruce's views on slavery were influenced by Livingstone. They believed that 'opening up' Africa to commerce — a view rooted in imperialist ideas — was key to the end of the slave trade there.
Collection item references