This postcard was produced by J S Fry & Sons, one of the commercial sponsors of the British Antarctic Expedition. The company provided large quantities of drinking chocolate and chocolate bars as their contribution to the expedition.
Cost of the British Antarctic Expedition
The expedition was a private venture.
In 1909, Scott estimated that the expedition would cost in the region of £40,000. This is equivalent to almost £3 million today.
The money was largely raised through individual donations, public subscription, and commercial sponsorship, and was eventually boosted by a government grant of £20,000. Today this amount would be over £1 million.
The largest single cost was the ship, 'Terra Nova', which was purchased for the sum of £12,500. This amount alone would be about £714,000 today.
The fundraising campaign for the expedition began in earnest in October 1909. It was largely carried out by Scott, who emphasised the scientific objectives of the venture as well as stirring national pride.
Raising sufficient funds became increasingly difficult set against a background of economic pressures and national strikes before the First World War.
Commercial sponsors
The fashion for polar exploration, and the promise of a British conquest of the South Pole, meant that companies were willing to associate their products with the expedition.
Some companies donated their products free of charge, while others paid the expedition members to endorse their branded goods. As well as Fry's cocoa and chocolate, the expedition was provided with a range of well-known food products including:
Colman's 'ready-mixed' mustard
Bovril
Oxo
Abram Lyle's golden syrup
Henry Tate's sugar
Frank Cooper's Oxford marmalade
Huntly & Palmer biscuits, made specially for the expedition
Heinz baked beans
Plenty of New Zealand lamb, Danish butter, and Welsh coal were also gratefully received. The brewers Bass also provided some cases of King's Ale which they hoped that Scott would use to toast the King's health when he reached the South Pole.
Other forms of funding
In addition to commercial and in-kind sponsorship, the costs were also met by individual donations and public subscriptions. Fundraising dinners and lecture tours were used to encourage potential donors and to raise awareness of the expedition.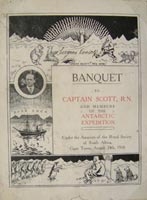 Two of the expedition members, Apsley Cherry-Garrard and Captain Lawrence Edward Grace ('Titus') Oates each contributed £1,000 to take part in the venture. This contribution would be equivalent to over £57,000 today.
More than 100 schools across Britain contributed funds to purchase sledges, dogs, ponies, and sleeping bags. Scott recorded each contribution, and made a point of writing to every school himself to thank the pupils.
The final weeks before the departure of the 'Terra Nova' from Cardiff were spent trying to encourage final donations and contributions, and the fundraising campaign continued as the ship made its way towards South Africa, Australia and New Zealand.
Suggested discussion points
If a similar expedition was being planned today, how do you think it would or should be funded? Do you think that this kind of venture should be funded by the state, or should explorers and adventurers be responsible for raising the costs of their own expeditions?
At the time of the British Antarctic expedition, there was a lot of economic and political uncertainty. Taking this into account, do you think that the expedition was a worthwhile thing to be funded by central government?
How might food and clothing companies have benefitted by being associated with Scott and the British Antarctic expedition? What image of Fry's cocoa and chocolate is conveyed in this postcard?
Can you think of any contemporary examples of food products or clothing brands associated with specific people or events? Do you think that people should be paid to endorse certain products?
Look carefully at the image on the postcard. How is polar exploration portrayed in this picture? To what extent might this image reflect the reality of the journey to the South Pole?