'The last witch' by Rona Munro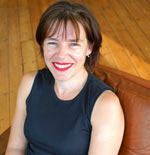 Rona Munro.
Rona Munro was born in Aberdeen in 1959 and is an award-winning Scottish playwright. She started writing professionally in 1981 and has written for film, television, stage and radio. Her television writing credits include a three part 'Doctor Who' serial in 1989.
In 1991 she was awarded the London Critics Circle Theatre Award (Drama Theatre Award) for Most Promising New Playwright for her play 'Bold girls'.
About the play
'The last witch' is a play about the last woman to be executed for witchcraft in Scotland. It also tells the story of a strong mother-daughter relationship. It explores the psychological issues that can divide close communities and drive families apart.
It is based on the historical account of Janet Horne, the last woman to be executed for witchcraft in Scotland.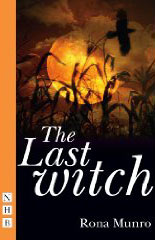 'The last witch'.
Nick Hern Books, 2009
[NLS reference:
PB5.211.55/22]
The play is set in Dornoch in 1727. In the heat of summer, a woman's apparent ability to manipulate the power of land and sea makes her neighbours suspicious of her.
Janet Horne can cure beasts, call the wind and charm fish out of the sea. With her daughter Helen having deformed feet, there is a rumour Janet has used her as a pony. Her refusal to deny the charge of witchcraft puts her in dangerous opposition to the new sheriff. Her defiance threatens not only her own life but that of her daughter.
The play was specially commissioned by the Edinburgh International Festival in a co-production with the Traverse Theatre.
Interpreting the historical context
In an interview with 'The List', Rona Munro said this about the historical context of her play:
'You weren't allowed to torture accused witches in Scotland,' she says. 'I was surprised when I started researching it that they didn't put them through all sorts of things, but they couldn't. You could deprive them of sleep, but that was about all. And that was about giving them time to contemplate their sins so that they could make a confession. You can see parallels with Guantanamo where they bent that law to the point of leaving people pleading for mercy. The confessions when they came, said so much about the poverty of those communities. It was things like, "The Devil gave me a big cake, and I said OK I'm yours."
'Janet Horne's execution came 60 years after the witch before her, and the execution was part of a formal legal process. There weren't any other cases because by then lawyers had a lot of trouble dealing with prosecuting someone in those terms — it was after the Enlightenment. But clearly that hadn't reached Dornoch.'
And she says this in an interview with 'The Guardian':
'If you look at the Enlightenment, it's all clean lines, and sharp stone columns, and people gazing into a bright clear future where everything is going to be quantified and man will be master of his own fate. But look at the period before the Enlightenment and people tend to say, "At the end of the day, there is nothing you can do because some things are beyond our control". And I feel that's the period we are going back to. The certainties of the Enlightenment are no longer our certainties.'
Further reading
You can find related books, articles and information about Rona Munro at the National Library of Scotland. In the search box above, type in 'Rona Munro' and select 'catalogues and resources'.
Suggested questions for discussion
Read the first quote from Rona Munro in 'The List' magazine. What kind of comparison is she making between the confessions from the inmates of Guantanamo and 17th century witches?
Do you think modern events have influenced Rona Munro's creative interpretation of the execution of Janet Horne?
Read the quote from 'The Guardian', what do you think Rona Munro means by the Enlightenment being 'all clean lines, and sharp stone columns, and people gazing into a bright clear future'.
Additional