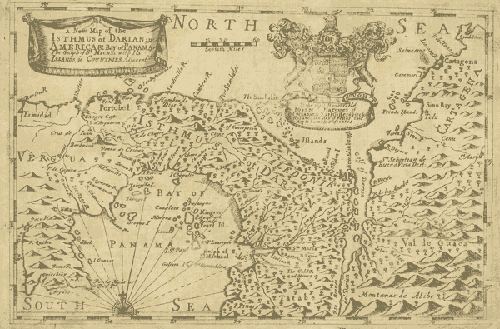 'New map of the Isthmus of Darian [sic] in America & Bay of Panama. The Gulph of St Michal with its islands & countries'.
This single sheet map was originally in 'A letter, giving a descripton of the Isthmus of Darian: (where the Scot's colonie is settled;) from a gentleman who lives there at present.' (Edinburgh: John Mackie and James Wardlow, 1699)
Although this map is small and plain with a weak engraving, it is interesting for the history of its ownership.
It was dedicated to John, Marquis of Tweeddale, Lord Hay of Yester. John Hay, 1st Marquess and 2nd Earl of Tweeddale, was dismissed from the Chancellorship in 1696 for supporting the Darien scheme. His son was appointed Lord High Commissioner to the Scots Parilament in 1704, and was Lord Chancellor of Scotland from 1704-1705.
The map is part of the Yester Papers at the National Library of Scotland.
This map and other archival material featured in the Scotland and Darien display at the National Library of Scotland from 1 July to 31 August 2011.