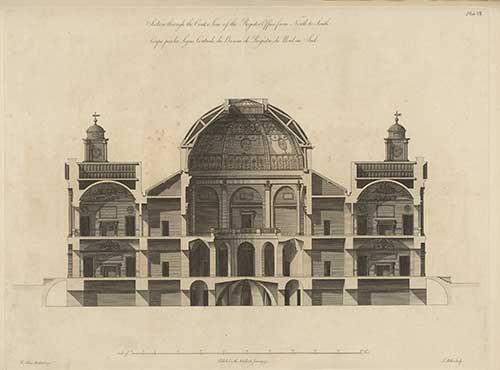 Elevation of Register House, Edinburgh in 'The Works in Architecture', 1778 by Robert and James Adam [Library reference: L.C.Fol.1].
Robert Adam (1728-1792) was, in conjunction with his brother James, perhaps the most famous architect of his time.
Engravings of the Adam brothers' successful designs were included in the book 'The Works in Architecture', 1778. This book is regarded as one of the finest architectural books of the 18th century, and helped to establish the Adam style in Britain and beyond.
The book contained an engraving of the plan for Edinburgh's Register House, which was one of the earliest buildings in the New Town.
Read more about the Adam brothers' architecture on our previous Robert Adam treasures display pages.
Our rare books section contains more information about 'Works in Architecture' published by the Adam brothers.
Learn more about Robert Adam in our learning zone pages.