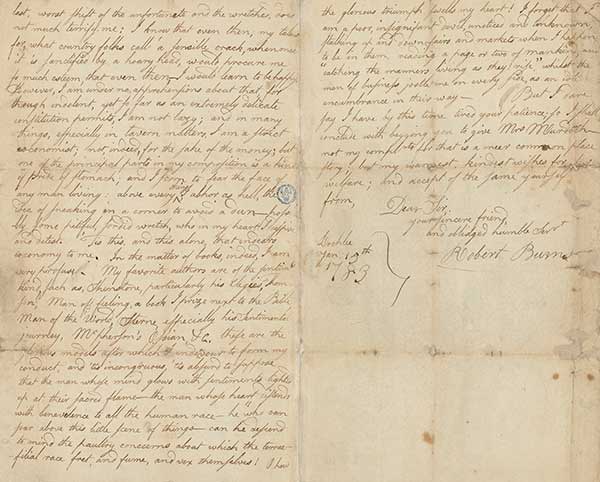 Letter from Robert Burns to John Murdoch, 1783 [Library reference: MS.586,ff.1-2]. On long-term loan from the National Galleries of Scotland (Watson Collection).
Robert Burns was given the confidence to use Scots in his poetry by poets like Allan Ramsay and Robert Fergusson writing in Scots.
Burns's work 'Poems, Chiefly in the Scottish Dialect' was first published in Kilmarnock in 1786 and a second edition was published in 1787.
In this letter to his old tutor, John Murdoch, dated 1783, Burns relates the beneficial effects of his education.
He also expresses his admiration for the works of Henry Mackenzie, Laurence Sterne, and the poems of Ossian.
View a digital copy of Burns's 'Poems, Chiefly in the Scottish Dialect.
Read more about Burns on our Robert Burns website.
Read about Robert Fergusson's poems