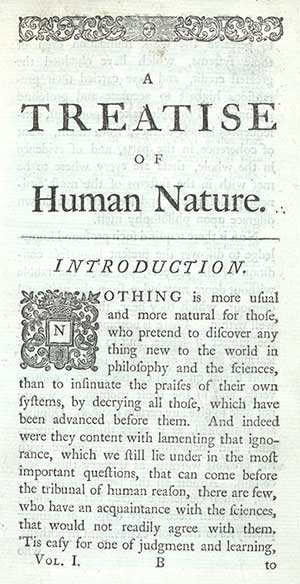 'A Treatise of Human Nature' by David Hume, 1739, [Library shelfmark: [Ven].5/1.9-11].
David Hume (1711-1776) was the second son of an advocate, however, he rejected a career in the law, instead choosing to pursue philosophy.
He wrote 'A Treatise of Human Nature' over three years in France before he was 25. This was to be his first published work.
The book introduced the concept of a 'Science of man' in which the knowledge of human nature could be the basis for all other sciences.
In his work, he wrote: 'Reason is, and ought only to be the slave of the passions', introducing the notion that human behaviour is governed by passion, not reason.
The way in which Hume presented concepts of cause and effect in 'A Treatise of Human Nature' challenged the views of other intellectuals from within the Church.
When it was published in 1739, however, it did not attract much attention. Hume himself commented that it 'fell dead-born from the press'.
Read more in our David Hume treasures display pages.