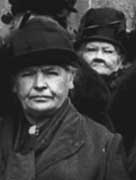 Moving images are a source for 20th-century social, geographical and industrial history. Historical films can offer evidence to illustrate:
The town or village that your ancestors came from
The kind of work that they did
The pastimes that they would have enjoyed as children.
Home movies
The Moving Image Archive (formerly Scottish Screen Archive) collection within the National Library of Scotland holds amateur and professional films that reflect on the lives of ordinary people in Scotland.
Many of these films have been made by local amateur cine enthusiasts recording the life in their communities or in their workplace. They filmed crafts and working methods that have since disappeared. They also filmed events in the history of the town, such as:
The annual gala day
School sports
Works outings
Boy Scouts Church parade.
Watch a film
One of our films that is always popular is 'Lochgelly Old Age Pensioners Drive to Crook o' Devon', a silent film from 1928:
Search the film collection
Additional