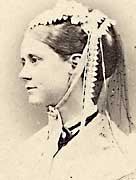 The collection of material relating to India at the National Library of Scotland is unmatched anywhere else in Scotland. If your ancestors had links with India, the collection may hold material useful for your family history research.
Details of most of the India Papers collection are recorded in our main catalogue. We also have a printed catalogue for searching the records.
Among items in the collection are:
Monumental (gravestone) inscriptions — e.g. 'Monumental (gravestone) inscriptions for North-West Provinces and Oudh'
Annual reports for medical institutions (both hospitals and schools of medicine), which can provide details on staff members and patients, e.g. the Pasteur Institute
Annual reports for veterinary service publications and agricultural stations
Police reports, which sometimes list criminal names
Listings of princes and chiefs
'Bombay Civil List', January-October 1877, which provides details of Civil and Military servants to the government, with an index of personal names.
'Deaths in Bombay (1857-1865)', which provides statistical information on causes of deaths and social factors. Although this does not provide names of individuals, it could be very useful for putting together a 'picture' of life in Bombay at the time.
Military documents.
Military information
The India Papers collection includes information about both British and Indian military personnel, such as:
Army lists — e.g. 'Records of the IV Madras Pioneers — now the 64th Pioneers — 1759-1903'
Medical Reports and Records — e.g. 'Medical and sanitary report of the native army of Bengal'
Army Statistics — e.g. 'Vital Statistics of India — Vol. IV': 'Annual returns of the European Army of India and of the Native Army and jail population of the Bengal Presidency for the years from 1871 to 1876'.
You can also find items related to India in our general collections:
'The Bombay Almanac' provides staff lists of the Bombay Army, the Bombay Civil Service, and the Indian Navy. It also lists European and East Indian inhabitants of Bombay.
'The East-India register and army list' provides soldiers' names.
For more information on the India Papers collection, please email the Social Sciences Curator.
Additional