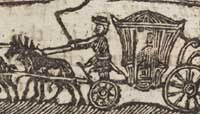 Newspapers are useful for your family history research as they contain:
Notices of birth, death and marriage
Obituaries
Advertisements for emigration
Local business adverts and information
Local news and historical information about an area.
They may also contain a news story about a member of your family if they were involved in an event.
Newspaper collections at the National Library
At the National Library of Scotland we collect a copy of every newspaper published in Scotland, including:
Daily and weekly newspapers
Free papers
Community papers.
We also collect all the main UK national papers. We can provide access within the General Reading Room and at Kelvin Hall to selected digital resources. Some of them, such the 'Times Digital Archive', you can use from your home or office if you have a library card. Read more about our newspaper collections.
Gaps in the collections
There are some gaps in the collection of 19th-century newspapers we inherited from the Advocates Library when the National Library of Scotland was formed in 1925. Some issues of national and local titles are missing, although these are gradually being filled by the NEWSPLAN microfilming project.
Sources for older Scottish newspapers which we don't hold are local Scottish public libraries and British Library Newspapers.
Library Search
To find out what newspapers we hold you can use Library Search.
If we have a newspaper you are interested in you can contact us to arrange to come and see it or to ask a question. If we don't have the newspaper you want we may be able to direct you to another library which does have it.
Scottish newspaper indexes
Online you can search the Guide to Scottish Newspaper Indexes. This database provides details of Scottish newspaper titles that have an index, and tells you which libraries have a copy of each index.
The Scotsman archive
You can use the Scotsman Digital Archive free as an index to the Scotsman newspaper from 1817-1950.
Additional