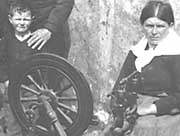 The National Library of Scotland has many books relating to Scottish traditional culture.
Using keywords in Library Search, such as 'clan', 'tartan', 'heraldry', will tell you what we hold.
Clans
Having a clan surname does not necessarily mean you are a direct family descendent from the original clan chief.
Clan origins lie in the social and political status of a given area of Scotland. Clan chiefs may have been landlords, for example, with extended branches (septs) of the clan as their tenants, as well as family members who have married outwith the family name. Although clan members were more likely to be direct blood relations, the clan system also depends upon the idea of loyalty to the chief.
Geographical origins
However, what the clan name can provide is an idea of the geographical origins of your ancestors — sometimes very specifically to a district or region of Scotland.
Nowadays to confirm the status of clan chief, an individual must prove to the Court of the Lord Lyon the right to hold the clan coat of arms and leadership over a community.
Tartan
Since the 19th century, there has been a rebirth of enthusiasm for tartan - particularly as a symbol of a family name.
Tartans may not have traditionally been connected to names in this way. There is no particular evidence that clan tartanry existed before the mid-18th century.
The lack of evidence for the origins of clan tartans may be due to a ban on wearing highland dress in Scotland in the 18th century. Early illustrations suggest that originally tartan colours were a matter of personal preference, and also depended on the natural colours that were available locally from plant sources.
Tartans and surnames
A system of associating tartans with surnames developed in the 19th century. It followed an explosion of interest in all things Scottish in the 19th century, particularly after Walter Scott's arrangements for King George IV's visit to Scotland.
Today, there may be many different versions of a tartan — dress tartan, traditional tartan, and hunting tartan.
Not every Scottish surname will have a tartan, so often people wear the tartan of their mother's maiden name or the tartan of a Scottish district. Tartans have become popular for sporting teams and businesses too.
There are many books on the subject of surnames and tartans in NLS collections. Try searching the main catalogue for details or contact us for more information.
Heraldry
Heraldry is a practical science introduced when few people could read or write. It allows individuals to be identified by the use of symbols or 'coats of arms'. These originated as markers of the identity of a knight on his armour, as his face would be concealed.
Arms were also used for individual's seals — for example, on a document — to allow pictorial identification. The coat of arms will either have been designed by the individual or inherited.
Use of a coat of arms
Only one person has the right to use a coat of arms — the holder. Clan chiefs, for example, will be holders of the family coat of arms and clan members may use the clan crest when their allegiance is approved by the chief.
Register of arms and genealogies
The Court of the Lord Lyon deals with all matters relating to Scottish heraldry and coats of arms and maintains the Scottish Public Register of Arms and Genealogies. The Court allows individuals to search the Scottish Public Registers of Arms and Genealogies for a fee.
Additional