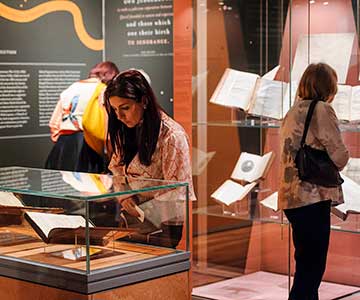 Visitors look at items on display in
the Library's 'Northern Lights' exhibition.
'We will develop the National Library as an exciting and memorable destination for both on-site and online visitors.' [2015-2020 strategy]
The National Library is able to draw on its rich collections to bring new perspectives to key periods or events in history or literature.
Until recently our collections were only available to those able to visit the Library's premises in Edinburgh. But our ambitious digitisation project has provided us with unparalleled opportunities to reach out and extend access to our treasures.
Beyond the exhibition hall
This year, for the first time, two National Library exhibitions are running in tandem, showcasing different collections to diverse audiences.
The 'Northern Lights' exhibition in our George IV Bridge building in Edinburgh displays key works from the Scottish Enlightenment period.
Meanwhile an innovative online retrospective — the 'Back to the future: 1979-1989' website — profiles a fascinating decade of change through the medium of essays, contributed by guest and staff authors, and films from the Moving Image Archive.
Additional