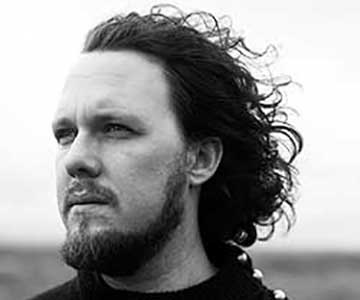 Alex Boyd, the 2018 National Library
Graham Brown Research Fellow.
'We will encourage and promote research and education as a defining characteristic of the Library.' [2015-2020 strategy]
There is abundant research potential to be explored in our rich collections by individuals – from academics and students to artists and creators, to family historians.
With funding, we have been able to host a Fulbright Scholar for several years, the most recent being Dr Gregory Baldi from Western Illinois University.
We also use endowment funding to host a Graham Brown Research Fellow to explore our unrivalled mountaineering and polar collections.
The first of these was Alex Boyd FRSA, who researched the social, cultural and literary significance of Scotland's mountains.  He then used historic photographic processes to create images of 100 iconic peaks.
Research partnerships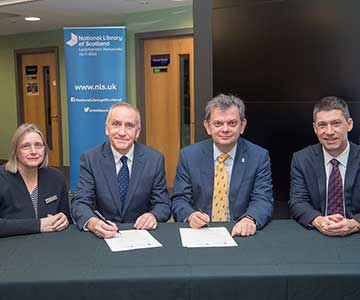 National Librarian John Scally and
Robin Smith, Associate Director of
Collections and Research, sign the partnership
agreement with Glasgow University.
The National Library's collections, owing to their volume, depth, and breadth, can support any conceivable field of research.
We are at any one time engaged in a number of partnerships which enable us to support research and exchange knowledge with institutions across Scotland.
One of these is the University of Glasgow partnership, with recent innovative projects including:
A Muriel Spark International Symposium
A collaborative research project on the works of Allan Ramsay
The digitisation of oral history tapes from the university's archives.
Additional