The story of how Charles Darwin came to write his groundbreaking publication 'On the Origin of Species' can be traced through the John Murray Archive. Rachel Beattie explores.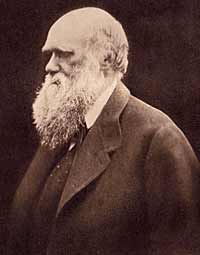 Charles Darwin.
This is a landmark year for Charles Darwin enthusiasts. The bicentennial celebrations of his birth took place in February 2009, and November sees the 150th anniversary of the publication of his most famous work - 'On the Origin of Species'.
The book explores ideas that first suggested themselves to Darwin when he was a young man. He had always displayed an interest in the natural world and during his time at Edinburgh, where he came to study medicine, he first developed a curiosity about the classification of species (using the Firth of Forth as a base for new discoveries).
Darwin next went to Cambridge University, where he attended a course on botany given by the Reverend John Stevens Henslow, whom he befriended and later saw as one of the greatest influences on his early life.
Darwin's voyage on HMS Beagle
It was thanks to Henslow that Darwin was chosen to participate on an around-the-world survey expedition. Robert FitzRoy, the captain of HMS Beagle, had asked for a man of scientific background to be his guest on the ship's second survey voyage. FitzRoy believed whoever accompanied him would 'profit by the opportunity of visiting distant countries yet little known.' Darwin was just 22 years old when he first stepped aboard HMS Beagle. The ship, and he, left Britain on 27 December 1831.
The Beagle spent five years travelling across the globe, an expedition that Darwin later described as having 'determined my whole career'. As the vessel visited different countries, Darwin collected specimens of plants and animals, which once back in Britain were distributed to specialists, although Darwin made sure to retain the marine invertebrate specimens for himself.
Upon examination, the finches, mockingbirds, tortoises and rodents collected from the Galapagos Islands were shown to be island specific. This discovery helped Darwin to formulate the theory that animals adapt to their local habitat. Darwin's accounts of the voyage were published in 1839. The publication went through many editions and titles. An edition was released by the eminent house of John Murray as 'Journal of Researches', also known as 'Naturalist's Voyage Around the World' and later, more popularly, as 'The Voyage of the Beagle'.
At around the time of publication, the ill-health that would dog Darwin for the rest of his life forced him to withdraw from fashionable London. He took his family (he had married his cousin Emma Wedgwood in 1839) to Down House in Kent, and it was here during 1842 and 1843 that Darwin expanded his initial 35-page sketch of theories into a 235-page manuscript. This he gave to his wife with the strict instructions it should be opened and published only in the event of his sudden death.
Apprehensive about reactions
There has been much speculation on Darwin's reasons for not going to print straight away. He was certainly apprehensive about the reactions his theories would generate, and how it might impact on his reputation, for by this point he was a well-respected man of science. Darwin's solution was to spend the next few years gathering further evidence to back up his theories. On 14 May 1856, after completing research into barnacles, pigeons, ducks, seeds and plants, Darwin finally began writing for publication. He intended his book to be a fully referenced three-volume work, brimming with detail from his own research. However, events soon transpired that would force him to radically change his plans.
On 18 June 1858, Darwin received an essay from Alfred Russel Wallace, a naturalist who was studying in the Malay Peninsula. Wallace argued that natural selection was one of the processes of evolution - a conclusion Darwin had already arrived at 20 years previously. Darwin forwarded the letter and essay on to fellow scientist and friend Sir Charles Lyell, who decided that the papers of both men should be presented at the same time to the biological authority, the Linnean Society. Events unfolded so quickly that Wallace wasn't actually notified about proceedings until they had taken place.
Darwin's hand was forced and so, on the advice of his friend Joseph Hooker, he started to write an abstract of his larger manuscript, with the intention of going to publication as quickly as possible. This version was not to be the heavy, scientific and fully referenced work that Darwin had originally planned; instead it was to be a publication aimed at a general audience. Such a change would turn out to be a major contributory factor in the work's prominence. 'Had I published on the scale in which I began to write in 1856, the book would have been four or five times as large as the Origin, and very few would have had the patience to read it,' noted its author.
John Murray happy to publish 'Origins'
On 31 March 1859, Charles Darwin wrote to John Murray, his former publisher. Of his proposed new publication, Darwin wrote: 'It is the result of more than 20 years' work, but as here given, is only a popular abstract of a larger work on the same subject … I have done my best, but whether it will succeed I cannot say.' Murray replied with a letter the very next day, a copy of which still exists in the letter books that were kept by the Murray firm. In it, John Murray has no hesitation 'in stating at once even without seeing the MS that I shall be most happy to publish it for you.' On receipt of this note, Darwin immediately replied with a letter that indicated he was only too aware of the controversial nature of his work. He wrote that 'I feel bound for your sake (and my own) to say in clearest terms, that if after looking over part of MS you do not think it likely to have a remunerative sale, I completely and explicitly free you from your offer'.
Murray sent the manuscript to one of his most trusted advisers, the Reverend Whitwell Elwin. The verdict was delivered by Elwin to Murray on 3 May 1859 in a marvellous letter wherein the Reverend made his own views crystal clear. 'I have been intending for some days to write to you upon the subject of Mr Darwin's work on the origin of species … at every page I was tantalised by the absence of the proofs. All kinds of objections and possibilities rose up in my mind'. Elwin had heard that Darwin had carried out some research on pigeons and suggested that a book on that subject would be preferable to the current work on offer - 'Every body is interested in pigeons. The book would be received in every journal in the kingdom, and would soon be on every table.'
Clearly, Murray ignored Elwin's advice and proceeded with publication. The 1,250 copies that constituted the first edition came out on 24 November 1859. They were oversubscribed and Murray immediately ordered another 3,000 copies. Although clearly popular, reaction was unsurprisingly mixed: biologist Thomas Huxley soon became known as Darwin's bulldog, such was the vociferousness of his defence of 'Origin'. However, others were appalled at the implications for the history of human development inherent in Darwin's theories, even though Darwin himself had shied away from such subject matter in his publication.
Support from Charles Lyell
One notable supporter was Sir Charles Lyell. Darwin had read Lyell's Principles of Geology (published in July 1830) while on board HMS Beagle and later recorded that the book had 'altered the whole tone of one's mind, and therefore that, when seeing a thing never seen by Lyell, one yet saw it partially through his eyes'. Lyell's belief that by looking at the world today we could determine what had happened in the past encouraged Darwin to study current species as a way to form ideas about evolution. Lyell's geological research and understanding was also instrumental in the formulation of theories supporting the notion that the Earth was in fact much older than had been previously thought. This extended time frame was crucial to Darwin's theories of evolution.
Despite never being fully convinced by all of Darwin's theories, Lyell incorporated natural selection into later editions of his popular and influential books, and such was the strength of the two men's friendship, Darwin would later be a pallbearer at Lyell's funeral in 1875.
But if Darwin was able to attract notable supporters, the quality of his detractors was impressive too. In 1894, George Douglas Campbell, the eighth Duke of Argyll, published 'The Burdens of Belief', a book that spoke out against evolution. If, for nothing else, it was notable for the manner in which the Duke chose to construct his rebuttal - poetry.
As Argyll himself wrote in a letter to John Murray: 'In short the poem is a substantial contribution to the great controversy of our time - the connection between science and religion'. Argyll argued that life and nature was so complex there had to have been some kind of designer to bring it into existence. Although they disagreed, Darwin and Argyll maintained a very cordial correspondence and treated each other with respect. As a sign of this respect, and mirroring Darwin's relationship with Lyell, Argyll was one of the pallbearers at Darwin's funeral. Despite the debates after publication, Darwin felt that 'I have almost always been treated honestly by my reviewers, passing over those without scientific knowledge as not worthy of notice. My views have often been grossly misrepresented, bitterly opposed and ridiculed, but this has been generally done, I believe, in good faith'.
With all this speculation, the book continued to sell well and Darwin saw six editions published during his lifetime. Later versions tried to deal with counter-arguments, as well as offer new research from other scientists. Herbert Spencer's phrase 'survival of the fittest' was first introduced in the fifth edition. The book has never been out of print.
Exceeded author's ambition
The publication of Darwin's 'On the Origin of Species' was a seminal moment in the modern world, one that far exceeded its author's own ambition. 'I remember when in Good Success Bay, in Tierra del Fuego, thinking … that I could not employ my life better than in adding a little to Natural Science,' he once wrote. 'This I have done to the best of my abilities, and critics may say what they like, but they cannot destroy this conviction'.
Even with his great intellect, Darwin could never have imagined that national celebrations involving exhibitions, television shows and educational activities would still be honouring his 'little' contribution some 150 years later. In honour of the anniversary of 'On the Origin of Species' first publication, Sir Charles Lyell and George Douglas Campbell, eighth Duke of Argyll, will join Darwin in the John Murray Archive exhibition later this year.
---
'This View of Life'
In October, the Library is hosting a Darwin themed participatory play. Peter Arnott, NLS writer in residence, has been entrusted to develop the project. 'I've been working on Darwin,' he says, 'one result of which is the series of semi-dramatised historical and public talks I've been giving in the boardroom. I'm working with Emma Faragher here at the Library, and with collaborators at TAG Theatre Company, part of the Citizens Theatre in Glasgow, to put together a production for an invited primary school audience where four actors will lead an interactive performance of a time journey called 'This View of Life'. It will involve dinosaurs, asteroids and pigeons, as we attempt, for two weeks here, as well as two weeks in the Hunterian Museum in Glasgow and a few days at Summerlee Heritage Centre in Coatbridge, to distill the essence of Darwin's ideas. The project is still in a fairly early stage of development, but the plan is that by the end of September we will have evolved far enough to present an engaging day out.'
This View of Life, a participatory play for primary schools, runs at the Library weekdays from 26 October to 6 November.
'Evolving Words'
Darwin's walks on the beaches near Edinburgh sparked off a fascination in nature that would eventually lead him to write 'On the Origin of Species'. This autumn, NLS will be recreating those walks with a group of young people participating in 'Evolving Words', a performance project running in six UK cities to celebrate Darwin200 year.
John Murray Archive curator David McClay and poet Anita Govan will be working with the group to discuss evolution and Darwin's time in Edinburgh, which, with support and advice from Anita, will result in the creation of Darwin inspired poetry.
'Evolving Words' is funded by the Wellcome Trust, and the Library is working in conjunction with North Edinburgh Arts Centre and community learning and development staff from Edinburgh Council. The project will culminate in local performances, a video and display of the group's work. If selected by a central panel, some of the group members will also get the opportunity to perform at a public event showcasing the project at the Wellcome Collection Gallery in London.
Read the full Discover NLS issue 13 (PDF: 27 pages; 2.4 MB).