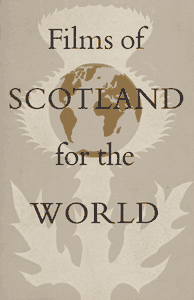 Films of Scotland was born in the 1930s when Scotland hosted the 1938 Empire Exhibition in Glasgow.
The first Films of Scotland committee was set up to promote Scotland both nationally and internationally, depicting all aspects of Scottish life.
John Grierson
Distinguished Stirling-born documentary film-maker John Grierson's pioneering films 'Drifters' and 'Night mail' led to him being appointed adviser for a series of seven films made especially for the exhibition.
Twelve million visitors saw the first Films of Scotland, which were shown in the Empire cinema building in Bellahouston Park. Films included 'Wealth of a Nation' (1938), a lok at Scottish industry and town planning.
The second committee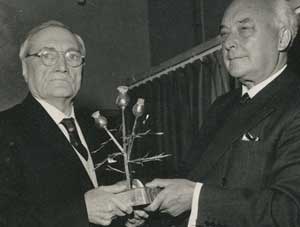 Having done its job, the committee stood down in 1939.
In 1954, it was re-established, and between 1955 and 1982 the second Films of Scotland Committee produced over 150 documentaries.
It was closely associated with John Grierson (on the left in our picture), who produced several treatments for them. In 1968 he won the Golden Thistle Award for his contribution to world cinema.
The Films of Scotland collection is part of the Scottish Screen Archive at the National Library of Scotland. Read more and watch film clips on the Scottish Screen Archive website.
Films of Scotland clips were on show in our cinema exhibition, which ran from 15 June to 28 October 2012.