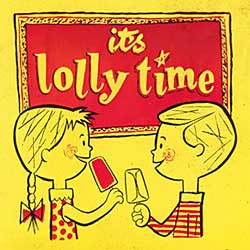 1.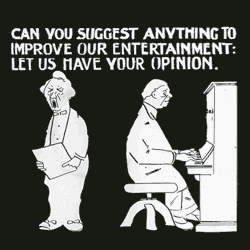 3.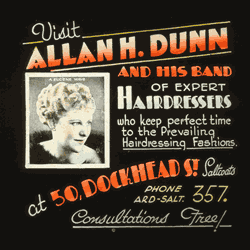 2.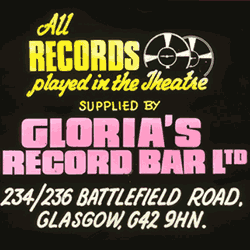 4.
A selection of lantern slides from the collection in the Moving Image Archive at the National Library of Scotland.
Lantern slides originated from the days before cinema and were incorporated into the cinema programme until approximately the 1970s. The slides were used to promote forthcoming films, advertise products or to provide information.
1. 'It's lolly time':
A 1960s interval slide tempting patrons to buy an ice lolly, used at the Odeon Cinema, Eglinton Toll, Glasgow.
2. 'Visit Allan H Dunn and his expert band of hairdressers':
A coloured cinema advertising slide from around 1930. The style of the advert likens Saltcoats hairdresser Allan H Dunn to a popular dance-band of the time, and the style in vogue for ladies is the Eugene Wave.
3. 'Can you suggest anything to improve our entertainment':
This black and white slide from the 1920s shows a distinct sense of humour in its depiction of an old-fashioned singer and a rather tired-looking pianist performing on the cinema stage.
4. 'Gloria's Record Bar':
An interval slide shown at the Odeon Cinema, Eglinton Toll, Glasgow in the 1960s, advertising a local record shop.
Lantern slides were on show in 'Going to the pictures', our exhibition on cinema-going in Scotland, which ran at the National Library of Scotland from 15 June to 28 October 2012.