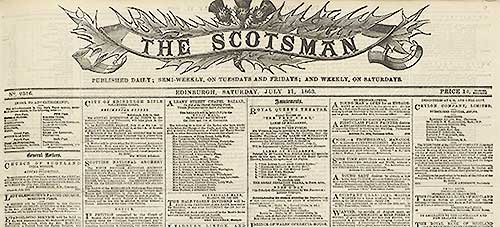 Front page detail from Saturday 11 July 1863 issue.
In 1855 'The Scotsman' changed from a weekly paper to the daily publication it is today.
This development was the result of the abolition of duty on newspaper advertising in 1853 and the repeal of stamp duty on newspapers in 1855.
Initially priced at 10 pence (old sterling) per issue, 'The Scotsman' was comparatively expensive. The price was reduced to one penny in 1855.
Advertising revenue
Its founders, William Ritchie and Charles Maclaren, did not expect to be able to generate advertising revenue from the newspaper. They felt the opinions they intended to publish would dissuade advertisers from buying space on the pages.
Changes in the rules on stamp duty meant 'The Scotsman' could drop its price to 1 penny per issue and publish more issues, becoming daily instead of weekly.
Circulation figures swelled to 6,000 and by 1865 had grown to 17,000.
The front page of 'The Scotsman' became filled with classified adverts.