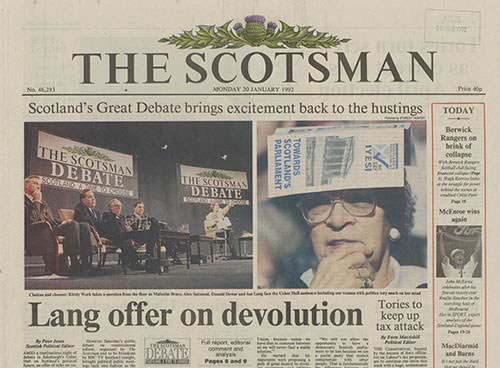 'The Scotsman' front page on Monday 30 January 1992 led with the constitutional debate organised by the newspaper.
On 26 December 1950 'The Scotsman' reported the removal of the Stone of Destiny from Westminster Abbey on Christmas Day.
The stone's theft rekindled the debate on Scotland's constitutional settlement – a debate in which 'The Scotsman' would play a prominent role.
In January 1992, to celebrate its 175th year anniversary, the newspaper organised a high-profile debate on the subject.
This event epitomised the liberal spirit of 'The Scotsman' and endorsed one of its founding principles to publish news and opinions 'without fear or favour'.
Scottish politicians Malcolm Bruce, Donald Dewar, Ian Lang and Alex Salmond formed the panel for the discussion, which was chaired by broadcaster Kirsty Wark.
The debate helped raise awareness of issues surrounding devolution. Subjects discussed contributed to the devolution vote in 1997, and ultimately to the formation of the Scottish Parliament in 1999.