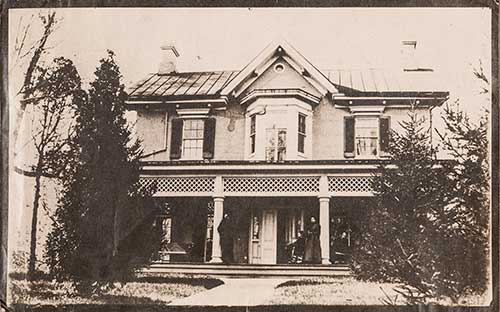 Silver gelatine print of Frederick Douglass and unidentified family members outside the Douglass family home, Cedar Hill, around 1891. From the Walter O and Linda Evans Collection.
Frederick Douglass escaped from slavery in Maryland in the USA South to the North in 1838. He spent the rest of his life campaigning for the abolition of slavery, and became the most famous freedom-fighter in America's history.
Towards the end of his life, in 1878, he and his wife Anna Murray Douglass bought Cedar Hill, a 22 room house with accompanying acres of land, for their family to live in.
Cedar Hill held a special place in Douglass's heart. In a letter to his son Charles, dated 1893, he wrote: 'I shall rejoice when I can again plant my feet on Cedar Hill'. On 20 February 1895, Douglass returned from attending the National Council of Women in Washington D C and collapsed in the hallway of his beloved home. He died that day and his funeral was held in Rochester, New York.
In this print, from around 1891, three figures are just visible standing on the porch of Cedar Hill. It is very likely that Frederick Douglass is the figure standing on the far left leaning against the pillar. The figure standing against the right pillar is most likely his second wife, Helen Pitts Douglass, and the seated figure is her mother, Jane Wells Pitts.