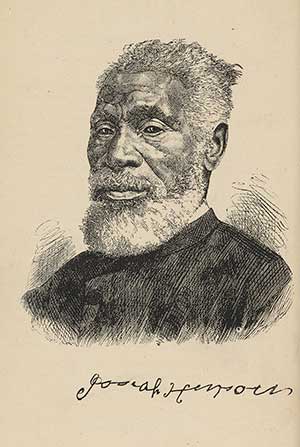 Portrait of Josiah Henson from
his autobiography.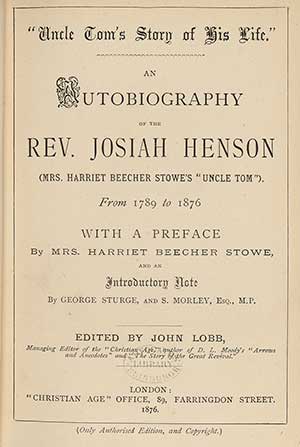 Frontispiece of Henson's autobiography,
published 1876, [Library shelfmark: VV8].
Frederick Douglass was one of many formerly enslaved Black abolitionists born in the United States of America who came to Scotland to campaign for social justice.
Josiah Henson, born in Maryland in 1789, was a self-emancipated enslaved man turned author, orator, anti-slavery and civil rights campaigner. He first visited Edinburgh in 1851 when he asked for financial support to help fund a school for children in Dawn, a settlement for newly-freed people in Canada.
His autobiography was published in 1876 with a title referring to Josiah Henson as 'Uncle Tom' from Harriet Beecher Stowe's hugely popular anti-slavery novel 'Uncle Tom's Cabin'. This was a description Henson publicly protested against as he insisted on his independence. Harriet Beecher Stowe wrote the preface to this edition of Henson's autobiography, which had the title: 'Uncle Tom's story of his life. An autobiography of the Rev. Josiah Henson (Mrs Harriet Beecher Stowe's Uncle Tom) from 1789 to 1876'.
Recognition in Scotland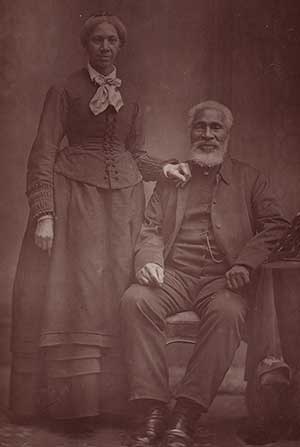 Portrait of Josiah Henson and his wife Nancy,
from the report of his farewell meeting, 1877
[Library shelfmark: APS.1.203.041].
Josiah Henson made a second visit to Scotland in 1877 accompanied by his wife, Nancy.
On 20 April 1877 at the City Hall in Glasgow, a 'Farewell Meeting and Presentation' was held for the Hensons, to publicly acknowledge and thank them for their work in Scotland. A report of the meeting was published to 'preserve a Memorial of their visit to Scotland', which contained the following in its prefactory note:
'It is hoped, [also], that the circulation of this book, especially in the United States of America and Canada, may serve a useful purpose, by showing how the people of Great Britain can love and honour a man of worth, whatever his country or his clime, and thus assist in removing the foolish prejudice to colour which still exists in some quarters, and which it may yet take years to destroy'.
After their UK visit in 1877, the Hensons returned to Canada. Josiah Henson died in Canada in 1883, aged 93.
Find out more about the anti-slavery campaign in Scotland using the Library's resources on Scotland and the slave trade