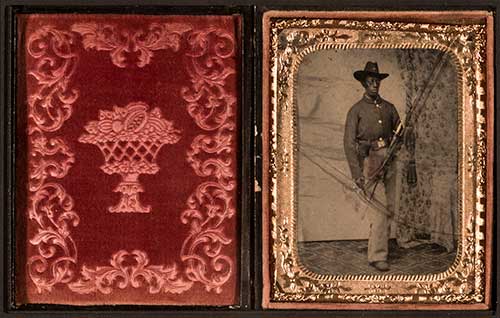 Cased photograph of Charles Remond Douglass in Civil War Uniform, around 1863. From the Walter O and Linda Evans Collection.
The anti-slavery author and activist Frederick Douglass (1818-1895) devoted his life to the abolitionist cause and worked in the USA and Britain towards this aim.
Increasingly militant in the years preceding the American Civil War, Douglass endorsed war as he saw this as a means to end slavery.
When the war began in 1861, it was a white man's war: Black soldiers wishing to enlist were turned away. Due to incessant pressure by African American and white radical campaigners, including Frederick Douglass, the military began to enlist Black soliders in the army and navy.
Douglass was appointed by the government as an agent to recruit Black soldiers into the Union Army. In 1863 he published an appeal to this effect, with the call: 'Men of Color, To Arms!'. Douglass implored all Black men 'Better even to die free, than to live slaves'.
His eldest son, Lewis Henry and his youngest son, Charles Remond, responded to the call by enlisting in the 54th Massachussetts Regiment. Both served distinguished military careers as combat soldiers.
This picture shows Charles Remond dressed in his Civil War uniform armed with a pistol and a sword. The portrait has been hand-coloured so that the buttons on his coat and the brass letters 'U.S.' on his belt buckle appear gold and his sash appears red.
Read more about the war in our American Civil War Treasures display pages.