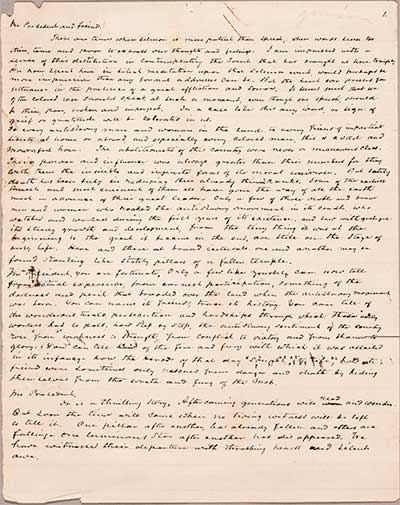 First page of the six page manuscript written by Frederick Douglass containing a eulogy written for William Lloyd Garrison who died in 1879. From the Walter O and Linda Evans Collection.
In 1841, three years after he escaped from chattel slavery in the American South, Frederick Douglass spoke at an 'antislavery convention' in Nantucket, Massachusetts. His speech was heard by William Lloyd Garrison, one of the most prominent white anti-slavery campaigners of the time. Moved by Douglass's powerful oration, Garrison met Douglass in person, and the two men collaborated — with Garrison as Douglass's mentor — for several years, in both the USA and Britain. Both men were opposed to the Free Church receiving funds from white slave-owners and lobbied against this in Scotland.
By the late 1840s and early 1850s, however, it became clear that, despite being committed to the same cause, Garrison and Douglass differed on their approved means. Emotional conflicts and political disagreements — disagreements that were borne of Garrison's racist paternalism towards Douglass — caused them to fall out, and they stopped working together and remained unreconciled by the time of Garrison's death on 23 May 1879.
Eulogy to reconcile differences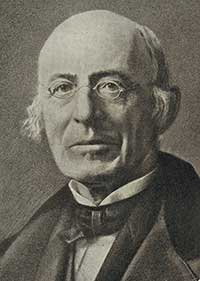 William Lloyd Garrison,
from a 1906 biography,
[Library shelfmark:
S.155.g.20].
A memorial meeting for Garrison was held on 2 June 1879 at the Fifteenth Street Presbyterian Church in Washington D C. One of Garrison's sons, Francis Willard, called upon Douglass to present a eulogy of his late father at the meeting, which was attended by Black and white audiences.
Douglass's eulogy for Garrison begins by addressing Robert Purvis, the chair of the meeting, and himself a prominent abolitionist, as 'Mr President and friends'. In the pages that follow, Douglass lays aside the disputes he had with Garrison, expresses sorrow at his death and acknowledges his influence on the abolitionist cause. On the sixth and final page of the manuscript he writes:
'Let us guard his memory as a precious inheritance, let us teach our children the story of his life, let us try to imitate his vertues [sic], and endeavor as he did, to leave the world freer, nobler and better than we found it'.
Find out about the work of anti-slavery campaigners in Scotland using the Library's resources on Scotland and the slave trade.