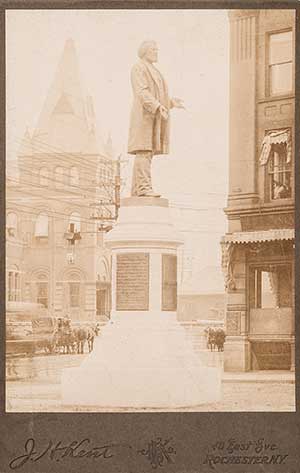 Photograph of the Frederick Douglass monument in Rochester New York, around 1899, From the Walter O and Linda Evans Collection.
The Black abolitionist Frederick Douglass died at his home in Washington D C on 20 February 1895 following a lifetime spent as an author, orator and campaigner against slavery.
After his death, John W Thompson, an African American activist and reformer, oversaw the creation of a monument to honour Douglass's life and work.
The monument took the form of a bronze statue of Douglass, depicting him in an authoritative pose, with an outstretched hand. It was made by the Smith Granite Company from Westerly, Rhode Island, and was modelled on Douglass's son Charles Remond Douglass who posed for the white US sculptor, Sidney W Edwards.
The bronze statue was eight feet high, and the pedestal, made of granite, stood nine feet high. At its base, four bronze tablets were installed, with words from Douglass's most famous speeches, selected by his eldest daughter Rosetta.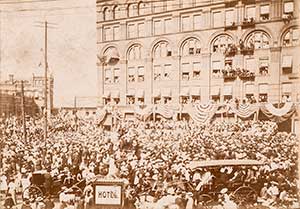 Photograph showing crowds at the
unveiling of the Douglass monument. From
the Walter O and Linda Evans Collection.
Unveiling ceremony
A ceremony to unveil the monument took place on 9 June 1899 in Rochester, New York. It was attended by members of Frederick Douglass's family and was a very public occasion.
Large crowds came to see the statue, and citizens of Rochester hung flags and bunting to decorate the buildings nearby.