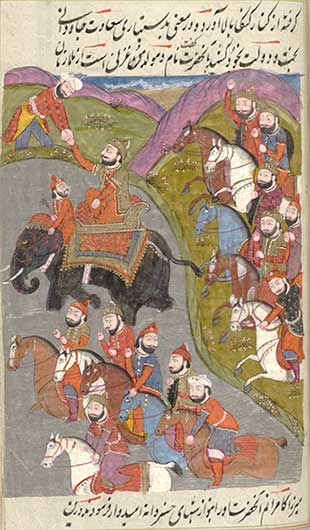 'Akbar-namah', by Abū al-Faz̤l ibn Mubārak (early 18th century). [Library reference: MS.3183]
The 'Akbar-namah' ('Book of Akbar') is the official chronicle of the third Mughal Emperor's reign (r. 1556-1605). It was commissioned by Akbar himself and written by his court historian and biographer, Abū al-Faz̤l (1551-1602).
The book was written in Persian, the literary language of the Mughals, and includes vivid and detailed descriptions of Akbar's life and times.
As well as being a patron of the arts, Akbar was a fierce warrior-emperor, as shown in this scene. He kept an extensive and fully documented stable of horses, elephants and camels, for both fighting and ceremonial purposes.
This book features in the 'Images of India' display at the Library from 6 July to 20 August 2017.