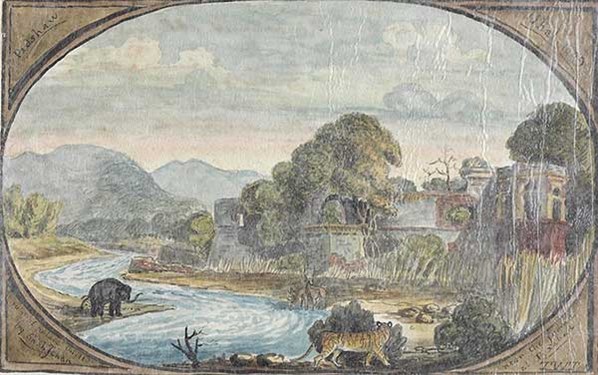 'Padshaw Mhal, Faizabad'. From illustrated letters by Captain Thomas William Taylor (1809). [Library reference: MS.11102, f.111 and f.117v]
The illustration here shows the ruins of the 'Padshaw Mhal [sic], Faizabad' — in Anglo-Hindi the word 'Padshaw' means 'Padishah' ('King' or 'Emperor'), so these ruins are of the emperor's palace.
Captain Thomas William Taylor served as Military Secretary to Sir Gilbert Elliot, Ist Earl Minto (1751-1814), during the latter's term as Governor-General of British India (1807-1813). Taylor's correspondence is among the Library's substantial collection of Minto papers.
Taylor was a proficient sketcher and watercolourist, and sent vividly illustrated letters to Lord Minto's daughter, Lady Anna Maria Elliot, and her family at Minto House, Roxburghshire.
This item features in the 'Images of India' display at the Library from 6 July to 20 August 2017.