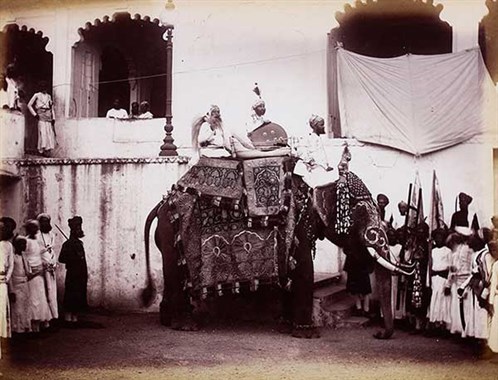 'H H Maharana Odeypur'. From 'Views of Rajputana', by Raja Deen Dayal (Indore, 1901). [Library shelfmark: Acc.7548/F12]
Pictured are His Highness the Maharana of Odeypur (Udaipur) and attendants atop his decorated elephant, around 1890. The Maharana is most likely Fateh Singh, who ruled from 1884 to 1930.
The Scottish Foreign Mission Records held at the National Library of Scotland contain much material related to missionary activity in South Asia from the early 19th century up to recent times.
Included in this collection are photograph albums by Lala Deen Dayal (1844–1905). He was appointed as the photographer to the Viceroy of India in 1885 and received the Royal Warrant from Queen Victoria in 1897.
This book features in the 'Images of India' display at the Library from 6 July to 20 August 2017.
See also from this display: 'Famous Monuments of Centra India' by Raja Deen Dayal.